Scoil Aonghusa gets Contemporary new Design and Build School under the Department of Education Rapid Build Delivery Programme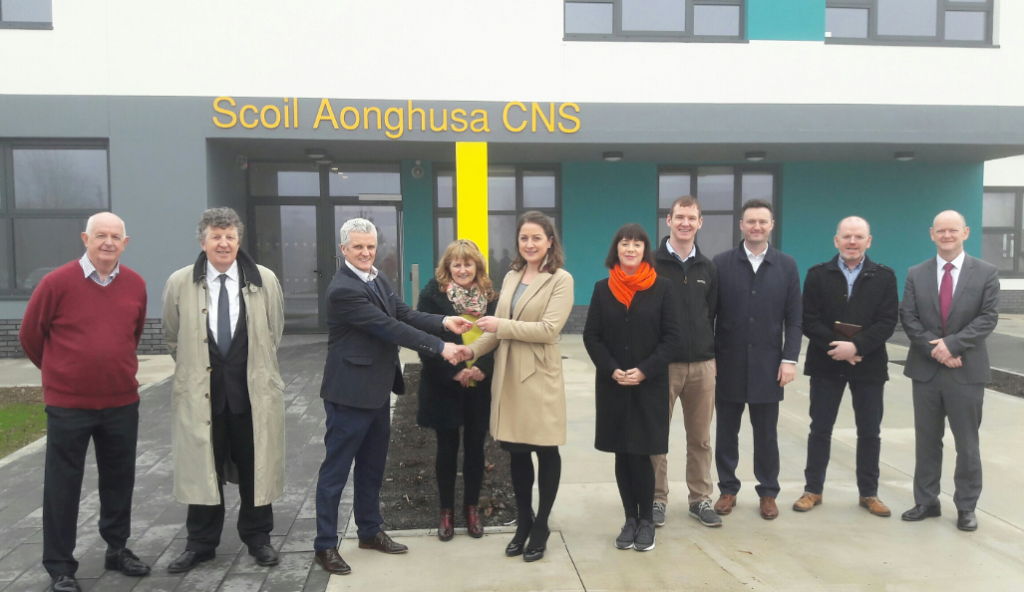 Liam Ahern,Chairperson B.O.M, Brendan Mulligan- PSDP Tobin, Consulting Engineers,Brian Gorman, Contracts Director ,Stewart Construction,Christine Ahern, School Secretary, Catherine Fleming, School Principal, Sarah Brophy, Coady Architects, Kealan Buckley, Deputy Principal, Darren McCarthy, Turner Townsend, Project Manager, Patrick Kelly, Department of Education,Pat Mc Kelvey, Director of Schools, ETB Cork.
The new Scoil Aonghusa Community National School in is set to move to a permanent residence adjacent to Castlepark Village on Monday.The new school was designed and built by Stewart Construction in under 40 weeks and is an example of the success of rapid build delivery.The students and staff have been in temporary accommodation in the grounds of Mallow GAA Complex up until now. Scoil Aonghusa is a school which caters for children of all faiths and none and has been based at Mallow GAA Complex since 2014. The primary school is located in a rapidly developing area of the country that was prioritised for funding by the Department of Education and Science. The rapid build school includes eight classrooms, three support classrooms, a full sized hall, library, sensory room, special class, outdoor basketball court and play area. Scoil Aonghusa seeks to promote respect and offers high quality education while focusing on differentiated teaching and Mindfulness training.